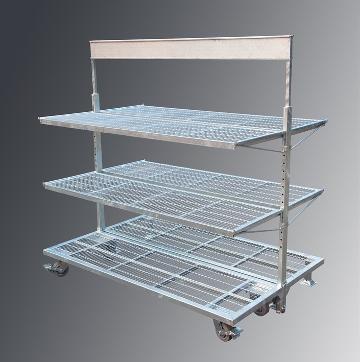 Three Display Rack - Mobile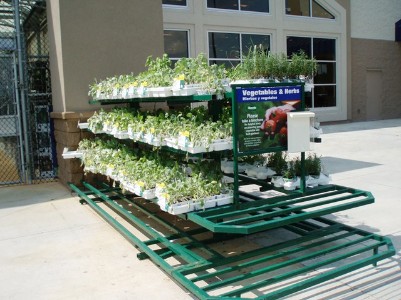 Our 4 tier with end kit and poster holders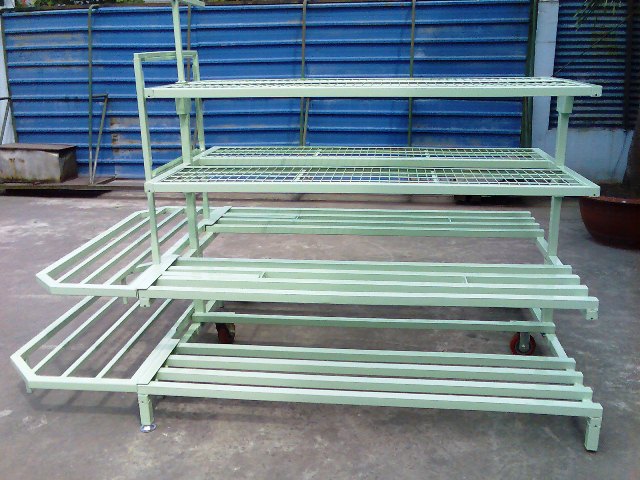 66" x 72" two sided display with end kit. Square Tube Steel and Wire Grid Shelves.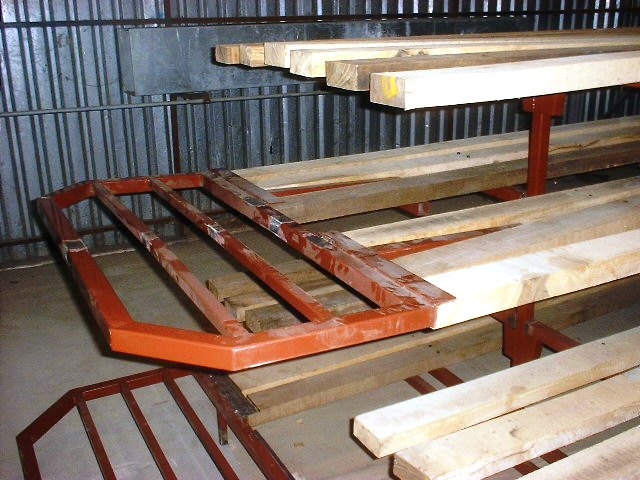 The Do It Yourself Kit with 2" x 3" boards.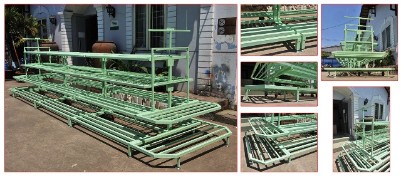 A colage of pictures of the 66" x 72" two sided retail display rack.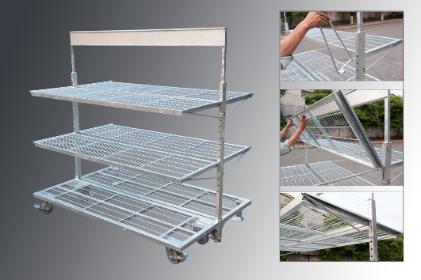 Retail Display Rack with height adjusting shelves.
Retail Display Rack
These Garden Center mobile displays add a professional image to any garden center. Let us help you move more product to your consumers.
Benefits
Increase your sales per square foot with more merchandise flexibility.
Increase your cross sales of merchandise, by displaying associated products in one convenient location, such as plants, chemicals, soils, containers, etc.
Features
Heavy guage steel construction
Hot Dip galvanizing over steel
Adjustable shelves

Options
Shelves available in:
Steel Wire Grid
Solid Sheet Steel
Expanded Metal
Square Tube Steel
Custom Colour Paint
Wheels
End Kits
Sign Holders
Poster Holders
Height standard is 54" (custom heights are welcome on large orders)
Number of sheves is customizable.
Standard Sizes
66" x 72"
48" x 96"
Do It Yourself Kit
We supply the steel frame and your team builds the shelves from local wood. barnboards, etc.
Custom Designs Welcome
Our engineers and can work together with you to design a retail display system that will help you increase your sales revenue.
Load Limits
150 pounds (65 kg) per shelf
2000 pounds (900 kg) per rack
Value Pricing
These sturdy display racks will help your increase the sales per square foot in your retail location(s), show off your product however you imagine, and quickly move product from your back room to the floor for immediate sales. Suitable for indoor/outdoor use.
For a price delivered to your door please contact us.