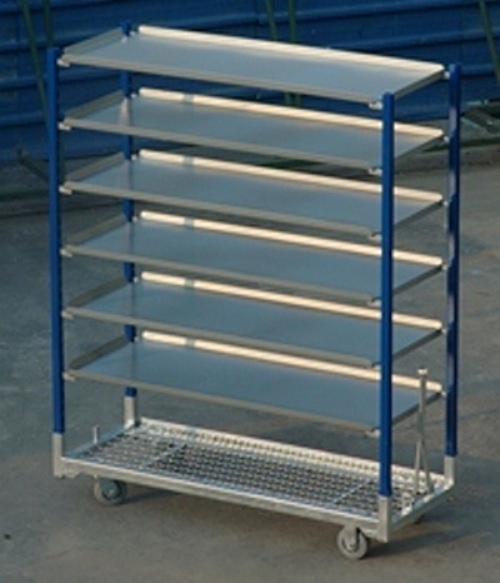 22" x 59" Rack with Solid Sheet Steel Shelves. Versitile and strong.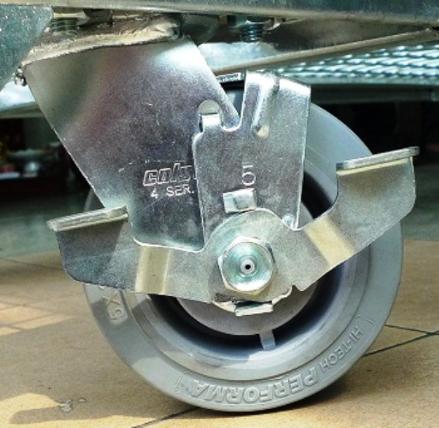 Colson Series 4 Casters - 2" by 5" with lock option. Over 400 wheel options are available. You can expect a 10 year life with Colson Casters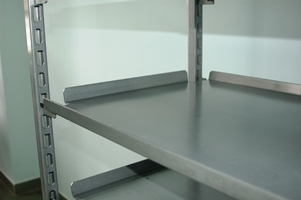 Solid Sheet Steel Shelves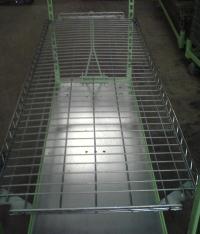 Hai My Steel Wire Grid Shelves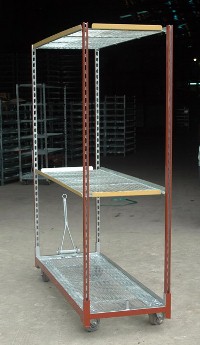 Standard paint option images - Please be advised that theses samples are taken from the paint manufacture's images. How your computer displays these images will differ from the finished painted product. The best match is with a painted sample to evaluate the surface of material and lighting conditions. RAL Codes (Universal codes used by paint producers) are viewable by hovering your mouse over the shade. Custom shades are available.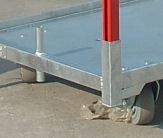 Tow Pin can be made to pass through base to avoid water accumulation and eventual corrosion.

Standard hitch and pin. The "Y" shaped hitch will lock in a vertical position.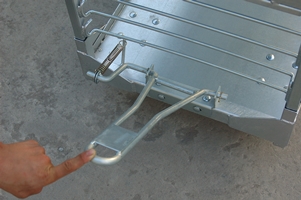 Tow package with triangle hitch and "C" shaped pin are available.
Spring loaded hitches are an available option.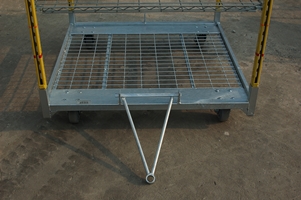 Hook In Shelf Rack - Medium Duty
The most efficient and cost effective way to move merchandise.
Benefits
Reduce or eliminate the expensive cost of packaging with boxes. This also reduces physical strain on your staff members by minimizing material handling.
You control the presentation of your product to the end user. Your team merchandises the rack for best impact. Our team can colour coordinate your rack for high sales impact.
Retailer's work load is reduced in product handling, restocking and merchandising.
Standard Features
Post Steel Thickness 2.3 mm
Hot Dip Galvanizing over steel
2" x 5" Series 4 Colson Casters (standard; 2 fixed, 2 swivel)
Quick assembly
Easily disassembled for return shipping
Compact storage when empty
Tow Package (Standard hitch and pin shown in pictures on left side, "Y" shaped.)
Adjustable shelves

Options:
Shelves and base available in:
Steel Wire Grid - 2 options
Solid Sheet Steel
Expanded Metal
Custom Colour Paint
Name plates
RFID tags
Shelf height markers on posts
Fork Lift Guides
Post Heights (standard are 72", 77" or 81", custom lengths are welcome on large orders)
Number of shelves per rack is customizable.
Standard Sizes
22" x 53"
22" x 59"
24" x 67"
26" x 68"

Other common Sizes
22" x 63 1/2"
31" x 44"
44" x 44"
40" x 48"
and 44" x 46"
Custom sizes are available on large orders.
Load Limits
80 pounds (35 kg) per shelf
200 pounds (90 kg) per Hai My steel wire grid shelf
2200 pounds (1000 kg) per rack
Value pricing:
Great price point for a multiple use rack. Works well in high moisture situations and for moderate sized loads. This rack is not recommended when there is a high risk rack loss or for loads over 2200 pounds (1000 Kg).
For a price delivered to your door please contact us.